New statewide organization brings DFW's Asian American leaders together Asian Texans for Justice (ATJ), a nonpartisan, nonprofit organization hosted an evening of community building with DFW's Asian American and Pacific Islander (AAPI) leaders.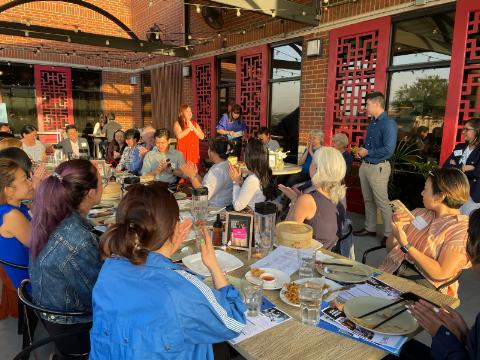 In attendance included APAPA North Texas Chapter, Women of Asian Descent, Korean American Coalition, The Progressive Vietnamese American Organization, OCA-DFW, and many others. ATJ's executive director, Lily Trieu and senior strategy consultant, Mingfei Alice Yi hosted the open invite AAPI Community Happy Hour in Irving, TX on April 14th. Asian Texans for Justice envisions a future where all people feel bold in their belonging by connecting Asian Texans of all intersectional identities to meaningful civic action to build personal and political power for future generations.
ATJ will continue to work with DFW leaders and others across the state to strengthen the AAPI coalition. They work on issues such as voter engagement and education, census and redistricting, advocacy for Asian American studies, language access and other important issues across the state.
亚裔德州人促进正义组织亚太裔社区座谈会
解健 ([email protected])
新的全州性组织将DFW的亚裔领导人聚集在一起 亚裔德州人正义组织(ATJ),一个无党派的非营利组织,与DFW的亚裔和太平洋岛民(AAPI)领导人举办了一个社区建设座谈会。
出席者包括APAPA北德克萨斯州分会,亚裔妇女,韩裔美国人联盟,进步的越裔美国人组织,美华协会,以及其他许多组织的领导人。ATJ的执行董事Lily Trieu和高级战略顾问赵明菲于4月14日在德克萨斯州欧文市举办了公开邀请的亚太裔社区座谈会。德州亚裔正义组织设想了一个美好的未来,将德州亚裔与有意义的公民行动联系起来,为后代建立个人和政治力量,让所有人都能有归属感。
ATJ将继续与达福地区的领导人和全州的其他人合作,以加强AAPI联盟。他们在选民参与和教育、人口普查和重新划分选区、倡导亚裔美国人研究、语言使用和全州其他重要问题上开展工作。