ELECTION TRANSPARENCY on TRIAL
Beth Biesel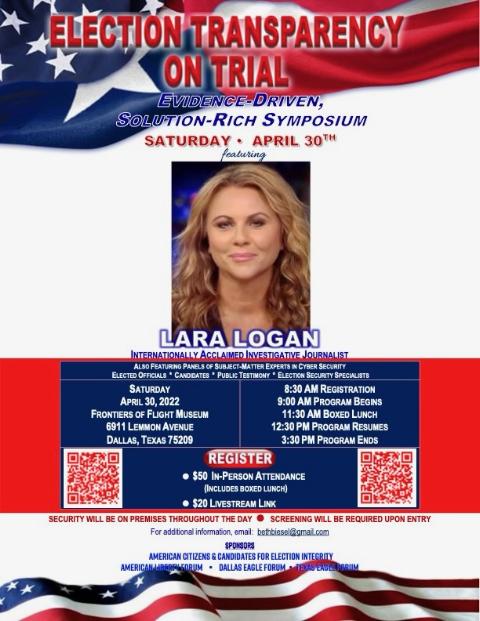 Evidence-Driven, Solution-Rich Symposium
at the Frontiers of Flight Museum
April 30th, Saturday, 9:00am-3:30pm
in person or live stream*
–– featuring ––
LARA LOGAN
Internationally Acclaimed Investigative Journalist
Attendees will:
Participate in an in-depth examination 
of the indisputable vulnerabilities of the current electronic systems

Witness demonstrations 
by subject matter expertsof vote switching in a real election system 
and easy access to election management software. 

Hear the latest updates 
and solutions from key election integrity professionals 
from other states 

See legislators and candidates 
who are invited to share their concerns and solutions

Walk away with actions 
to take forward into our community

See flyer below for more details. Registration begins at 8:30am. Lunch provided.
To attend in-person, buy tickets at https://give.cornerstone.cc/election+symposium
选举透明性的试验
证据驱动、解决方案丰富的研讨会
在飞行前线博物馆举行
4月30日,星期六,上午9:00-下午3:30
亲自出席或现场直播
主持人拉拉-LOGAN 国际知名的调查性新闻工作者

参会者将参加一个深入的检查,参加对当前电子系统无可争议的脆弱性的深入研究。
见证主题专家在真正的选举系统中演示, 见证主题专家对真实选举系统中的投票转换的演示,以及对选举管理软件的简易访问。
听取关键的选举完整性专业人员的最新更新, 听取来自其他州的主要选举完整性专家的最新信息和解决方案,听取来自其他州的主要选举诚信专家的最新信息和解决方案.
立法者和候选人他们被邀请分享他们的关切和解决方案,带着行动离开!带着行动走进我们的社区!

更多细节见下面的传单。登记从上午8:30开始。提供午餐。
如果要亲自参加,请在以下网站购票: https://give.cornerstone.cc/election+symposium